Even though we can experience technological advancements mostly in entertainment – such as by watching 3D movies, or looking online for betfair free bets – we can also see amazing uses of technology elsewhere. Technology is here to help us reach new horizons, sometimes literally, and more often than not, through imagination and visual and aural aids. Technology has helped so many sports, including cycling.
Cycling got better because of technology, from a professional standpoint, to the regular, daily cyclist who just commutes. Yet, what about those who wish to cycle indoors and still travel the world, in a sense?
Well, virtual reality has been around long enough for someone to take things into their own hands and create VR cycling solutions. Will you be cycling the world virtually?
CycleVR – The Homemade Project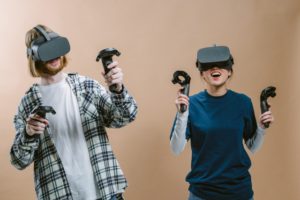 After a while, Aaron Puzey decided that he should make his own VR project, so he cycled the UK, south to north, all 1448 kilometers, in a little over 3 months. His project gathered plenty of followers. Due to that and his own passion for cycling and technology, he started CycleVR, as a Kickstarter. He got the funds and is currently working on a stable version, which people will be able to enjoy. When something is built from passion first, then you can expect things to be much better, at least with regards to cycling. The software will use Google Street View to allow you cycle all over the world, basically.
VZfit from VirZoom
VirZoom already specializes in VR products, so it should come as no surprise that they have developed an accessory for exercise bikes called the VZfit. This is a device you attach near your bike's pedals and it works with the Oculus Go and Oculus Quest. It is wireless, so fear not that you will get wrapped in wires.
The game has many interesting features like catching bandits and competing in the Grand Tours. You can also chat with other cyclists who are on the same route, or rather, talk with them. You can also download maps from Google and travel the world. The game is subscription based, 9.95$ per month or 99.95$ annually. You do get a 7 days free trial so make the best of it.
Holofit by Holodia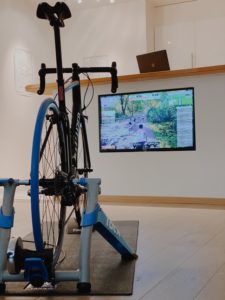 Holodia is also a company which deals with VR but their target audience is primarily people who want to stay fit. Fitness is important, even more if you are homebound due to a global pandemic. Holofit works similarly to VZfit, except you can also attach it to ellipticals and rowing machines. You do require a sensor and their Holofit device, an Oculus Quest, HTC Vive Focus or tethered VR headsets and you need a membership. The cost might seem high, but if that is what you need to stay fit, then they are a good solution.
These three virtual reality solutions will help any cyclist who wants to explore the world indoors. Once CycleVR is ready, it might overtake the other projects on the list, but we will know that when it is ready. Until then, the VZfit and Holofit are your solutions if you want to cycle indoors but still explore the world through VR.