Virtual reality has been here for a decade, at least. We have seen it start off and it was not the best experience for most people. Today, hardware has advanced and we have portable VR headsets which do not tether us to computers. Wireless access is important so VR headsets have also adapted.
What is more, sports started being featured in virtual reality, in more ways than one. Sports and virtual reality go quite well hand in hand. How do they work, one might be wondering. Well, depending on the sport and whether you are spectating or playing, there are several ways.
Motion Detection and Controllers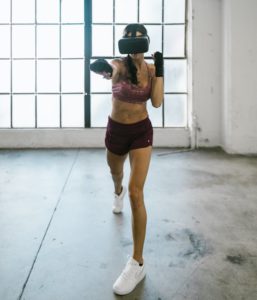 Sports games are pretty easy to play in VR, provided that you have some space in your room and that you will not hit anything once you start swinging.
VR boxing is a common sport and one which many people have played just to exercise if not for the love of boxing. Sports like rowing, cycling and alike, can be done indoors, by using special sensors which attach to the machines in question.
Sensory equipment is used, whether on the VR headset or a device placed somewhere in the room where it has a good view of you, or both. The controllers are also used as sensors and if you have to attach sensors on machines that you use to exercise, then that should be self-explanatory.
VR Spectating – Watching Sports in VR
Some sports have tried VR broadcasting, or rather, broadcasting for people who want to watch in VR. Technically, you can watch anything with a VR headset but it might not be the best experience. Some sports like basketball, or rather, the NBA, tried implementing VR technology for their spectators.
Spectating in VR can be a good experience if you do not get motion sickness. If the content is optimized for VR, then you will see the least nauseating and most immersive camera angles from sports events. VR broadcasting is still in its early stages, mostly because spectators still prefer a flat screen TV rather than a headset.
VR and Sports Training – Professionals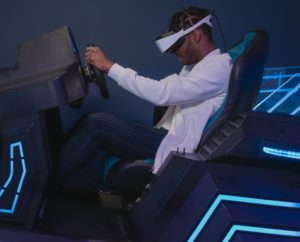 VR technology is used in sports to train the athletes to better results. What an athlete can experience in VR is sometimes more than they could in real life. VR is used in sports like american football, football/soccer, NASCAR, basketball and many more.
Depending on the sport, the benefits of using VR can vary, but they often imply realistic access to footage and experience which would otherwise be unobtainable on the fields, pitches, courts, race tracks and wherever the match is taking place.
VR for Home Workout – Sports for the Everyman
VR has become prevalent enough that people use it at home, as a way of exercising. Whether you cycle indoors while watching a movie or experiencing the world through Google Maps, or you row on a rendered river or weight lift in a made-believe gym, there are many options by using VR.
If professional athletes can use VR to train and hone their skills, then obviously, so can the amateur athlete, or just somebody who wants to stay fit.
VR has a place in sports and that field of interest seems to be growing. In a decade or so, we might have VR options for most sports, both to spectate and to play.