A bicycle is a cyclist's most important possession. Some cyclists and hobbyists use bicycles to travel all over the world, riding hundreds of kilometers every day. Professionals surely do, but they are another story.
If you wanted to go the distance, for example, a 1000 kilometer journey to become initiated, there are some things you should do to prepare. This preparation involves the bicycle, as well as mandatory gear that should be brought along.
The Bicycle – A Thorough Inspection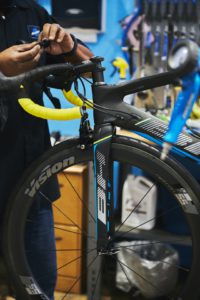 Before embarking on any journey, particularly a long one, you should inspect your bicycle to make sure that everything is working. It should not simply be working, but also be in pristine conditions, so that you do not end up being surprised by your hydraulic brakes suddenly stopping due to a bad line.
Inspect everything, from the wheels, tires, brakes, pads, derailleurs, to the frame and cables.
After you inspect the bicycle, make sure to fix anything that needs fixing. If you do not know how to do it yourself, take it to a professional who can help you. Professionals might also spot something you missed or weren't aware of in the first place.
Bring Spare Tires
Long trips will have you changing tires so often that you might think that you are riding on glass or nails, rather than asphalt. No matter how long your journey is, you should always have an inner tube around, actually, you should always have two.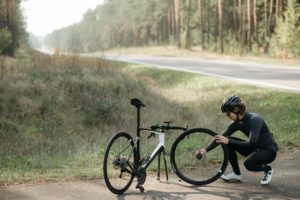 But, when you are planning a long trip, an outer tire is also necessary, or rather, two. Two tires are always essential, yet carrying a spare outer tire is cumbersome and impractical.
Have a tire repair kit handy, or even two, because those are not as cumbersome. Multiple inner tubes should be present, four, for starters.
You can replenish supplies in any cycling shop.
Have Everything Lubricated
Your bicycle works better when it is lubricated. Check the derailleurs specifically, the rear one first. The brakes should not need any lubrication, but check them for leaks if they are hydraulic. The chain and gears should be lubricated, to reduce friction. Chains break so have one handy, as well as a bottle of oil, should you need to change it. Quick change chains are a must.
Make sure to check the suspension, whether it is hydraulic or air, so that it is safe and ready for a long ride.
Check the Gears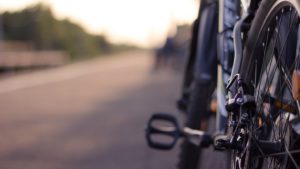 The gears are important, front and rear.
They wear and worn gears will not keep the chain steady. You might think your derailleur is wrong, but the gears might simply be bad.
If the gears are bad, the chain will slip onto the next one and so on. You might end up in a very bad position if that happens, particularly uphill.
Add Travel Accessories
Carrier packs, mobile phone mounts, front bags, add everything you might need for a long journey. Journeys take some time and accessories can make it easier. For example, the water bottles and bottle carriers are mandatory and not accessories. A phone mount and bags are accessories, but really helpful ones. A flashlight is an accessory, but not if you plan on traveling during the night. Plan accordingly.
Check your bicycle, plan ahead and bring spare tires as well as tire removing tools.