Cycling is a competitive sport and every year, a team emerges from the middle of the list, challenging everybody else to be better, if they want to keep their spot. The Grand Tours require the most effort and the best cyclists, physically and mentally, often step up to the challenge and show what they are made of. It is quite similar to what poker players go through, whether they are playing in real casinos or online.
Sometimes, even that is not enough and through the sheer power of will, the great ones manage to snatch a victory.
2021 is a great year for cycling and here are the professionals who are likely to be the top competitors.
Tadej Pogačar – The Slovenian Prodigy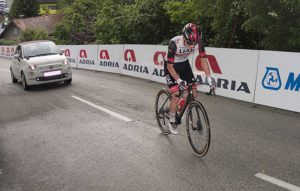 Tadej Pogačar hails from Slovenia, a small mountainous country in the Balkans and he has shown us that he can win races at a very young age.
His victory at the 2020 Tour de France baffled everybody but those who paid close attention to his growth. At the age of 22, he is looking like a true prodigy who will challenge everybody.
The UAE – Team Emirates are really happy with having Pogačar as their team member.
In 2021, he won his second Tour de France, showing everybody what it means to have their eyes set on the prize.
Primož Roglič – Slovenians Come in Pairs
While he is countryman to Pogačar, Roglič rides for another team. He rides for Jumbo-Visma, and he is as great a rider as Pogačar. He managed to win another Grand Tour, missing out on the Tour de France due to his countrymans success.
Roglič won the 2019 Tour of Spain, becoming the first Slovenian to win a Grand Tour. He also won the 2020 Tour of Spain, defending his success. Two Slovenians on two different Tours, the 2021 Vuelta will be interesting, particularly if Roglič keeps up his amazing form.
Julian Alaphilippe – The French All Rounder
Julian Alaphilippe rides for Deceuninck-Quick Step and is a cyclist who you can expect to do damage wherever he races. Whether it is a hilly race or a Grand Tour, Alaphilippe is a contender and nobody can discount him.
He rides pretty aggressively which makes him entertaining to watch. You might be comfortably in the lead, only to find out that Alaphilippe is right there, next to you and the next thing, he is in the lead.

Egan Bernal – The Colombian Speedster
Egan Bernal rides for the Ineos Grenadiers and he is known for winning the 2019 Tour de France, becoming the first Latin-American to do so. Bernal hails from Colombia, and he has his eyes set on the Grand Tours. Apart from the 2019 Tour de France victory, Bernal has also won the 2021 Giro d'Italia, showing that he is not a one Tour rider, only. His victory at the 2021 Giro makes the upcoming Vuelta an even more interesting Grand Tour.
Mathieu van der Poel – The Dutch Prodigy
Van der Poel is a young Dutch rider for the Alpecin-Fenix team. His style is similar to Pogačar, a young prodigy who can challenge you at every step of every race. While he led a stage at the 2021 Tour de France, he has plenty of other victories which speak for themselves.
These are the top riders in 2021. Some of them have already won Grand Tours while others are still looking toward the Vuelta, and everybody from the list can take it.